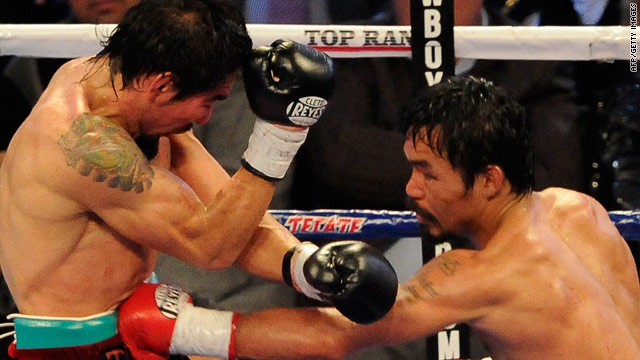 * U.S.:
Mexican-American boxer Antonio Margarito lost his WBC light-middleweight title after being
outpunched and overwhelmed
by Philippine pugilist Manny Pacquiao.
* Guatemala:
It can be a very challenging task to combat
widespread political corruption
; just ask the International Commission Against Impunity in Guatemala.
* Cuba:
Officials agreed to free a political prisoner who rejected being exiled and will be permitted to
live on the island
.
* Peru:
Japan and Peru reached a free trade deal that is expected
to remove tariffs
on 99% of trade between the two countries within the next ten years.
Image –
CNN
("Manny Pacquiao (right) unleashes yet another flurry of punches against Antonio Margarito in Dallas.")
Online Sources- New York Daily News, CBS News, AFP, Reuters