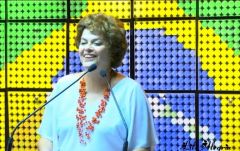 * Brazil:
With days left until Brazil's presidential elections ruling a poll released yesterday showed that Dilma Rousseff
continues to lead
Jose Serra by double digits.
* Puerto Rico:
As of this Monday there have
been 777 murders
in Puerto Rico, 47 more compared to the same date in 2009.
* Costa Rica:
The country received the 2010 Future Policy award in recognition of their commitments
to biodiversity
.
* Central America:
Hurricane Richard became a tropical depression on Monday but not before drenching parts of
Honduras and Belize
.
Image –
MercoPress
("Dilma Rousseff, the first woman president of Brazil?")
Online Sources- Bloomberg, AHN, LAHT, Reuters