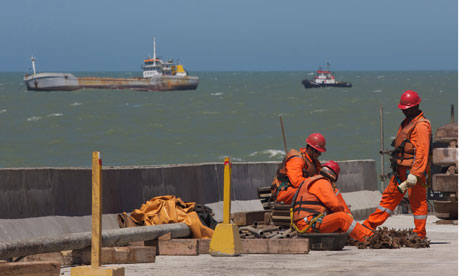 * Latin America:
According to U.N. figures Latin American exports and imports are
expected to shoot up
this year and the region will end this year with a trade surplus.
* Venezuela:
President Hugo Chavez
urged the extradition
of a man convicted of a pair of 2003 bombings in Caracas and who is currently seeking asylum in the U.S.
* Cuba:
Foreign Minister Bruno Rodriguez criticized U.S. President Barack Obama and claimed that he "has
fallen far short
of the expectations created by his speeches."
* Chile:
Both houses of Chile's legislature are expected to approve an increase
in mining royalties
designed to pay for post-earthquake reconstruction.
Image –
The Guardian
("The 'super port' in Sao Joao da Barra is the largest port investment in Brazil and will have capacity for the largest ships in the world.")
Online Sources- Miami Herald, CNN, Reuters, forbes.com