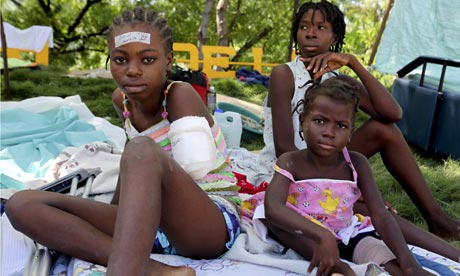 On Thursday musician Wyclef Jean announced
his candidacy
to the Haitian presidency. It remains to be seen
if he's eligible
to run but regardless of who wins in November the next Haitian president has plenty of pressing issues to face. One of them has to do with migrants leaving Haiti with the hopes of a better life.
According to Reuters there may be an
uptick in migrants
fleeing Haiti by sea after several months of a post-earthquake decline. "U.S.-bound migration attempts by Haitians might be picking up momentum again" after the Coast Guard intercepted two vessels last weekend.
Over 300 Haitians
were detained and returned to their homeland after they were found on a pair of "overloaded sailboats" near Bahamas.
Earthquake survivors wishing to reside abroad have faced their share of difficulties; Canadian officials have approved permanent resident visas to over 1030 Haitians so far this year. Local immigration advocates noted, however, that most of the approved visas were for those who arrived
before the quake
and highlighted that 900 Haitian applicants were rejected so far this year. A similar situation is playing out in the U.S. where a reported 55,000 Haitian expats have applied for temporary protected status though undocumented earthquake survivors
are ineligible
for these benefits.
A recent article in GlobalPost examined
the dichotomy
of immigration from Haiti to the neighboring Dominican Republic, especially in light of last January's deadly earthquakes:
Haitians have migrated to the Dominican Republic for nearly 100 years, first to work on the vast sugar plantations and later to construction sites and to jobs at the country's famous beaches. Cheap Haitian labor helped the Dominican economy surge, growing at nearly 10 percent some years, according to the World Bank…

But migrants like (Fabiola) Jean who have come since the earthquake add a complicated new twist to an old conundrum: The Dominican Republic has won international praise for its commitment to helping Haiti recover and rebuild from the earthquake, but its government and society are so intolerant of Haitians that they've drawn international criticism.

The immigration issue in Haiti (as in other countries around the world) is a complex one that requires careful examination and significant steps for improvement. This is one of the challenges the next president must tackle whether he's Wyclef Jean or somebody else.
Image-
The Guardian
Online Sources- Miami Herald, thestar.com boston.com, GlobalPost, MetaFilter, NPR