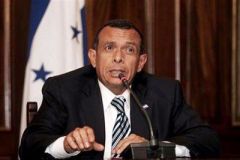 * Latin America:
Nearly thirteen months since the controversial ouster of President Manuel Zelaya the governments of Chile and Mexico reestablished
reestablished diplomatic ties
with Honduras.
* U.S.:
According to a study from the Pew Hispanic Center Latinos born in the U.S. are
more tech-savvy
than foreign-born Latinos.
* Venezuela:
Ex-defense minister Italo del Valle Alliegro
may face prosecution
for a 1989 civil uprising known as the "Caracazo."
* Panama:
A squad from the Panamanian city of Chitre will
represent Latin America
in this year's Little League World Series.
Image –
MercoPress
(Current Honduran President Porfirio Lobo).
Online Sources- Lebanon Daily News, LAHT, Pew Research Center, Americas Quarterly