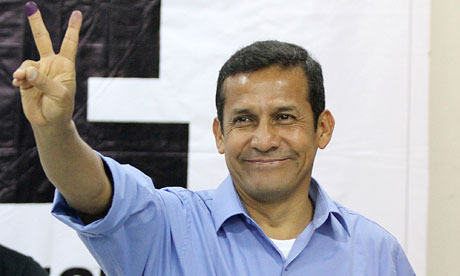 With Ollanta Humala's lead in the Peruvian presidential elections remaining steady and few votes left to be counted, Keiko Fujimori
conceded defeat
this afternoon:
Fujimori, speaking to reporters in Lima, said she will lead a responsible opposition and "build bridges" with Humula's government. She said she will offer him her personal congratulations in a meeting later today.

"I recognize his triumph," said the 36-year-old congresswoman. "It's important that the country continues its economic course and that it has clear rules."
Fujimori threw in the towel nearly 24 hours after the voting booths closed on Sunday. Exit polls indicated that Ollanta would win over the congresswoman though official preliminary results only gave him a razor-thin 0.18% lead. In the overnight and morning hours, however, the Humala's
lead gradually grew
as the remaining votes came from rural areas that have generally backed the ex-army general.
We'll have more on Tuesday on the Peruvian presidential elections; possible topics for discussion may include a focus on Peruvians voting abroad and how a Humala presidency could affect landlocked Bolivia's desire for accessing the ocean.
Online Sources - BusinessWeek, The Latin Americanist
Image - Marco del Rio/LatinContent/Getty Images via
The Guardian
("Peruvian presidential candidate Ollanta Humala after voting at Ricardo Palma University in Lima" on Sunday.)