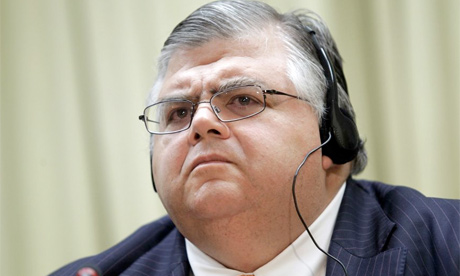 Mexico central bank Governor Agustin Carstens' bid for the International Monetary Fund (IMF) residency received a necessary and expected boost this week.
One dozen Latin American and Caribbean countries gave their backing to Carstens yesterday during the Organization of American States conference in El Salvador. Venezuela, the Dominican Republic and Uruguay were among those who "
expressed their support
to (Carstens)… and urge other government in the region to follow suit" according to a letter read by Colombian foreign minister María Angela Holguín. She he added that the successor to disgraced ex-IMF president Dominique Strauss-Kahn needs to "promote a greater participation of emerging countries in the selection process."
The former IMF Deputy Managing Director received an endorsement by the
Colombian government
yesterday while Inter-American Development Bank president Luis Moreno said last week that "Carstens meets
all the credentials
" to be IMF chief.
Latin America's backing of Carstens could to serve as a counterweight to European support of French Finance Minister Christine Lagarde for the IMF's top office. Last week Carstens criticized the European backing of Lagarde as having "
made up their minds
before the candidates are on the table." He has also critiqued the tradition of naming the IMF head from a European country and has tried to advocate a merit-base nominating system that
would favor him
.
Carstens is the underdog to replace Strauss-Kahn but that hasn't stopped him from travelling to several nations as part of his campaign. He has already visited Germany and he's expected to
travel to Washington
next week.
The Latin America endorsement could help Carstens gain support among emerging nations that have thus far been reluctant to back him. One of those countries is Latin American heavyweight Brazil who along with the other countries of the BRIC alliance (Brazil, Russia, India, China) still hasn't given any endorsement. These four countries, which reportedly hold
12% of the votes
in the IMF, could help swing the June 30th election in favor of Carstens.
Carstens recently visited Brazil and Mexican president tried to convince his Brazilian counterpart, Dilma Rousseff, to support Carstens' candidacy.
Yet regional politics
may get in the way of that according to Reuters:
Although Brazil has been a strong proponent of a greater say for emerging economies in IMF decision-making, Carstens faces a difficult task winning its support. Brazil rivals Mexico for leadership in Latin America and sees Lagarde as having more clout to push for IMF reforms.

Brazil has not officially sided with either candidate but government officials say in private that the Rousseff administration is inclined to back Lagarde.

Image- AP/ Ueslei Marcelino via
The Guardian
Online Sources- ABC Color, El Tiempo, Bloomberg, Reuters, Montreal Gazette, Reuters, Voice of America