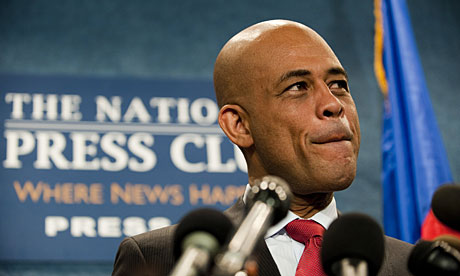 Haitians living abroad weren't permitted to vote in March's presidential election but that didn't stopped the country's next president from trying to reach out to them this week.
During his visit to Miami yesterday, President-elect Michel Martelly urged Haitian
expats to help him
fulfill his campaign promise for free primary education. He proposed that Haitians sending remittances to their homeland donate $1 per every $100 wire transfer. (According to HaitiLibre.com, remittances to Haiti
totaled $1.8 billion
, or one-quarter of the country's GDP).
Furthermore, Martelly suggested that $0.05 cents of foreign phone calls to Haiti could go to an education fund. "The diaspora will be able to send 860,000 kids to school for free and change their lives," he said since he estimated that both ideas would raise $86 million for schoolchildren. (As a Miami New Times blogger observed, however, "
Martelly was evasive
when asked where his administration would find 30,000 teachers to fill the schools.")
Martelly's suggestions are part of a broader pledge to give expats a greater say in his government's policy. In order to entice the diaspora he promised to
attract private investment
projects and proposed that the state could intervene in land disputes. Perhaps more importantly is that the Haitian constitution may be amended after Martelly takes office and one of the key changes could
include dual citizenship
.
Martelly's call for Haitians abroad to help in the rebuilding of their homeland is not a new notion to expats. An
October 2010 article
on the Miami Herald's website noted that numerous presidential candidates tried to appeal to Haitians living in North America. Why? To paraphrase a colloquialism, "it's all about the Gourdes."
With a tight calendar of private fundraisers, courtesy calls, media interviews and airport news conferences, the candidates are scrambling to raise money among wealthy members of the diaspora and powerful allies in these cash-strapped times…

(On one October) evening about 100 supporters and a handful of journalists gathered to hear the musician-turned-candidate speak at a home in South Miami-Dade.

After a 30-minute speech at the edge of an illuminated swimming pool, Martelly posed for photos and held a brief news conference. The fundraiser netted almost $10,000.

``They [members of the diaspora] expect me to deliver,'' Martelly said. He added that he welcomes expats being more involved in Haiti and would support their right to vote.

Martelly's visit to the U.S. comes as Haitian electoral authorities postponed legislative election results due to the possibility
of electoral fraud
.
Image- Jim Watson/AFP/Getty Images via
The Guardian
("Haiti's president-elect, Michel Martelly, speaks at the National Press Club in Washington" last week.)
Online Sources- HaitiLibre.com, Miami New Times, Reuters AlertNet, Miami Herald, BBC News, Jamaica Observer