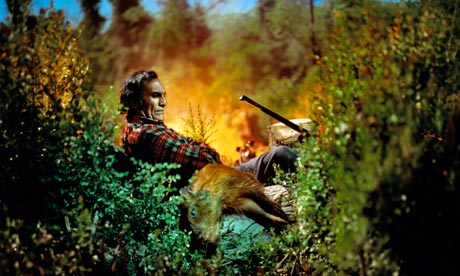 * Argentina:
Alejandro Chaskielberg won the Sony world
photographer of the year
award for his snapshots depicting islanders living on the Parana River Delta.
* Bolivia:
President Evo Morales announced a major find at the Aquio gas field that could boost Bolivia's gas reserves
by nearly one-third
.
* Mexico:
According to the State Department a
record 111 U.S. citizens
were killed in Mexico last year, which is triple that of 2007.
* Spain:
Lionel Messi 2
– Real Madrid 0.
Image – "Alejandro Chaskielberg, courtesy of Sony World Photography Awards 2011" via
The Guardian
("Alejandro Chaskielberg's The Hunter, one of a portfolio of images that won the Argentinian photographer an award at the Sony World Photography awards. ")
Online Sources- BBC News, CBC, Mercopress, Houston Chronicle