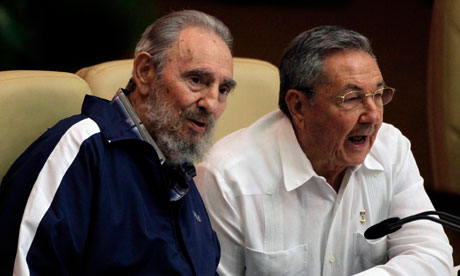 * Cuba:
While Fidel Castro made a surprise appearance deemed by blogger Yoani Sanchez as "a
great public requiem
", U.S. officials urged
more freedoms
for Cubans.
* Peru:
Conservative presidential candidate Keiko Fujimori tried to appeal to moderate Peruvians by "swearing to God" that she would
not grant a pardon
to her disgraced father, ex-president Alberto Fujimori.
* Argentina:
Fuel shortages could hit Argentines
this Easter weekend
due to a twenty-day strike haling output of the country's largest oil producer.
* Haiti:
President-elect Michel Martelly is expected to meet with World Bank and IMF officials as well as U.S. Secretary of State Hillary Clinton
during his visit
this week to Washington.
Image – Javier Galeano/AP via
The Guardian
("Fidel and Raúl Castro at the Cuban communist party congress in Havana". Fidel's unannounced appearance included his relinquishing of all party and state posts for the first time in decades.)
Online Sources- Huffington Post, AFP, ABC-CBN News, MarketWatch, Voice of America