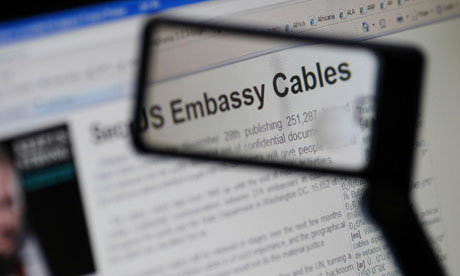 * Argentina:
According to documents released by WikiLeaks U.S. diplomats believed that
corruption in Argentina
was widespread and implicated senior officials including the late President Nestor Kirchner.
* Mexico:
President Felipe Calderon admitted earlier this week that the government needs to "improve much more in the
treatment of migrants
" that travel through Mexico.
* Central America:
U.S. Assistant Secretary of State William Brownfield said that the Obama administration is contemplating a $200 million
anti-drugs plan
for Central America.
* Uruguay:
The government announced plans to expand the
use of wind farms
, which can supply an estimated 25% of Uruguay's electricity by 2015.
Image – Thomas Coex/AFP/Getty Images via
The Guardian
("WikiLeaks has released several thousand of about 250,000 classified US embassy cables.")
Online Sources- The Globe and Mail, People's Daily Online, LAHT, MercoPress