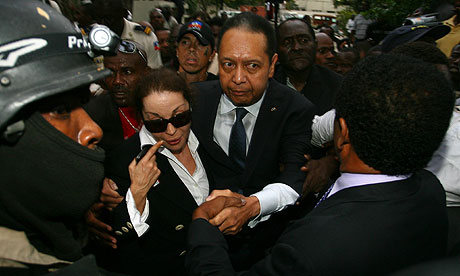 * Haiti:
Does it make any sense that former tyrant Jean-Claude "Baby Doc" Duvalier was permitted to
return to Haiti
but authorities have
thus far rejected
issuing a passport to ex-president Jean-Bertrand Aristide?
* Brazil:
The country's oil fields may hold
twice as much oil
as initially predicted according to research by a former Petrobras geologist.
* Mexico:
Police arrested a Mexican man suspected of having
been involved
in the January 2010 shooting of Paraguayan soccer star Salvador Cabanas.
* Ecuador:
President Rafael Correa submitted a number of economic and political reforms that
could be listed
on a possible constitutional referendum.
Image – Hector Retamal/AFP/Getty Images via
The Guardian
("Jean-Claude 'Baby Doc' Duvalier and his partner, Veronique Roy, leave court.")
Online Sources- AFP, Bloomberg, The Latin Americanist, CNN, IOL.co.za