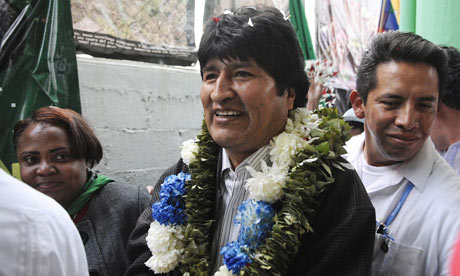 Bolivia stood alone today at the UN Climate Summit in Cancun
as the only country that opposed the summit's declaration
. Why? Bolivia felt the declaration didn't go far enough to curb greenhouse gas emissions or to support the renewal of the Kyoto Protocol before it expires next year.
At last year's Copenhagen summit, British PM Gordon Brown accused Morales of
"holding the world to ransom."
The Bolivian position didn't seem to make a much better impression on this year's host, Mexican Foreign Minister Patricia Espinosa who rejected Bolivia's attempt to "impose a veto" over the other 193 countries.
In economic news, Bolivia also
lowered the country's retirement age
from 65 (60 for women) to 58 and 55 in a time when crushing deficits are forcing Western economies to evaluate raising the retirement age.
Online Sources: Voice of America, Al-Jazeera, Google, MSNBC, The Guardian