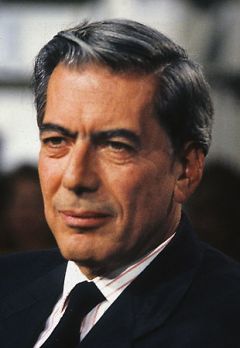 One of Latin America's most renown authors can now add the world's highest accolade in literature to his list of accomplishments.
This morning, Peru's Mario Vargas Llosa
was announced
as the winner of the 2010 Nobel Prize in Literature. According to the Nobel Prize's website the journalist, essayist, and playwright received such a prestigious accolade "for his cartography of structures of power and
his trenchant images
of the individual's resistance, revolt, and defeat".
Vargas Llosa's win may be seen as an
upset to oddsmakers
such as
Ladbrokes who placed him as a dark horse choice at 25-1. Bookies aside, however, Vargas Llosa is a worthy winner and a true "all around
man of letters
" as Bookslut columnist Jesse Tangen-Mills described him. Indeed, he has
written over thirty novels, plays and essays and was awarded
the Cervantes Prize in 1995.


The Arequipa-born wordsmith thus joins the likes of Octavio Paz and Pablo Neruda to become the sixth Latin American to win the award though the first South American since Gabriel Garcia Marquez way back in 1982. As the L Magazine
wrote on Tuesday
:
Consensus is that poets, South Americans and Scandinavians have been underrepresented in the selections of recent years (though not as much as black Africans); safe picks for geographical distribution would probably include the perpetual candidates Llosa and (Mexico's Carlos) Fuentes, Swedish poet Tomas Tranströmer and Syrian poet Adonis

Vargas Llosa's
forays into politics included losing to Alberto Fujimori in a closely contested runoff in the 1990 presidential race. Last month he blasted current president Alan Garcia for suggesting
a "
barely disguised amnesty
" for convicted rights abusers during Peru's armed conflict.
Image -
MercoPress
Online Sources -nobelprize.org, Times of India, ABC News, The Millions, LAHT, L Magazine