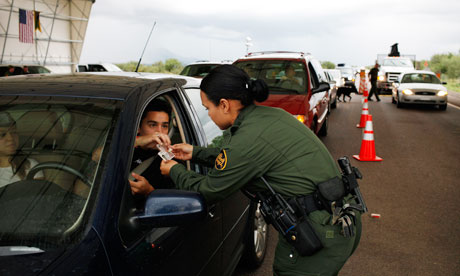 Update (9:15pm):
For the last word on Wednesday's court decision on SB 1070 here are
a few reactions
:
"Arizona may be frustrated, as are we, with Congress' failure to seriously address comprehensive immigration reform. Nevertheless, the solution is not a patchwork of varying state laws each trying to be more repressive than the next to force immigrants to go elsewhere." - statement from the League of United Latin American Citizens.
"The Obama administration has a light touch when it comes to securing the border but a heavy hand when it comes to sicking their lawyers on the people of Arizona." - joint statement from Pinal County Sheriff Paul Babeu and Cochise County Sheriff Larry Dever.
"I promise you this debate is going to get hotter and hotter and hotter" - remarks made by Federation for American Immigration Reform president Dan Stein to CNN.

Update (4:15pm):
Of the seven lawsuits filed against SB 1070 Judge Bolton's decision focused primarily on the one presented by the Department of Justice (DOJ). Interestingly the DOJ's case
did not challenge
some of the law's provisions according to the Arizona Daily Star's website:
• Making it a crime to stop a vehicle in traffic to hire a day laborer or for someone looking for work to get into a stopped vehicle;

• Requiring state officials to work with the federal government regarding illegal immigrants;

• Allowing Arizona residents to file suit against any agency, official, city or county for adopting policies that restrict the ability of workers to enforce federal immigration law "to less than the full extent permitted by federal law.

Meanwhile several local politicos have
already reacted
to the judge's decision; Gov. Jan Brewer said that she will appeal yet admitted that she was "heartened by some findings" in Bolton's ruling. On the other hand, state Attorney General Terry Goddard criticized the bill and urged repairing "the damage to Arizona's image and economy."
Update (3:30pm):
So what did
Judge Bolton place a preliminary injunction on? In a nutshell
here's the answer
according to The Guardian:
• Requiring a police officer to make a reasonable attempt to check the immigration status of those they have stopped

• Making it a crime for non-citizens to fail to carry documentation

• Creating a new crime of seeking to work while not a legal resident

• Allowing police to make arrests without warrants if there is a belief the person has committed an offense that allows them to be expelled from the US

Update (2:45pm):
A few quick points based on Judge Bolton's decision (which you can read in
its entirety here
):
It's vital to note that the blocks placed by the justice on areas of SB 1070 are

temporary

and could be overturned by an appeals court in the likely event that attorneys for Arizona Gov. Jan Brewer go in that direction.
The judge ruled that the law is against the Supremacy Clause in that the law would trump the federal government's authority on immigration enforcement. During the hearings, however, she was reportedly critical of some of the federal government's arguments and "seemed reluctant to accept that local police making the inquiry intruded on federal authority."
Bolton questioned the "vague wording" of the law that she said influenced her to grant preliminary injunctions for parts of the measure rather than permitting all of it to go into effect tonight.

While Bolton focused on the Justice Department's lawsuit she did not address the arguments made in other lawsuits against SB 1070 over potential racial profiling.
Lastly some food for thought - will the judge's decision lead to an increased push behind fair and comprehensive federal immigration reform?
Original Post:
In a piece of breaking news, Judge Susan Bolton
blocked parts
of a strong anti-immigration law set to go into in effect in Arizona this Thursday at midnight. The law will reportedly still take in effect tonight without certain portions
declared illegal
by the justice according to the AP:
The law will still take effect Thursday, but without many of the provisions that angered opponents — including sections that required officers to check a person's immigration status while enforcing other laws. The judge also put on hold a part of the law that required immigrants to carry their papers at all times, and made it illegal for undocumented workers to solicit employment in public places.

The ruling apparently agreed with the basic points presented by the Department of Justice's lawsuit but also did not back their call for a permanent injunction of the entire law. Furthermore, the judge's decision is not expected to calm the high political tension over immigration that has centered in Arizona.
We'll have more later today on the details and fallout from Judge Bolton's ruling.
Online Sources - Too many to list
Image - The Guardian
(A Border Patrol agent checks the ID of a driver trying to cross one of the U.S. borders.)