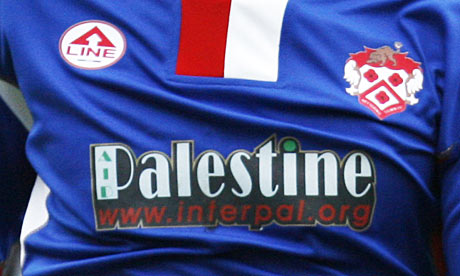 The sport of soccer is sometimes referred to as "the beautiful game". Beyond glamorous goals and stunning saves, the saying becomes especially true when a
charitable effort is involved
:
Shirts worn by players in an FA Cup tie tomorrow will be the unlikely advertising hoarding for the plight of Palestinians. Kettering Town will have the slogan Palestine Aid emblazoned on their kit to show their support for Interpal, a charitable organization which distributes aid in the Palestinian territories.

"We are trying to raise awareness and charitable funds for the refugees in Palestine," Imraan Ladak, the Kettering chairman, said of the association with Interpal that began before the escalation last month of the conflict in Gaza.

Ladak, 30, chief executive of a recruitment business based in Milton Keynes, has no personal links with Palestine. "I just think there are certain areas in the world that are in desperate need of humanitarian assistance, for whatever reason," he said, "and Palestine is the one that's suffering the most.
Some soccer club uniforms are littered with
all sorts of sponsors
which makes a player look like a walking billboard. Other clubs (
like my favorite team
) are actually
named
after a particular sponsor. Yet in recent years some clubs have opted to enter into partnerships with charitable groups like the case of
F.C. Barcelona
and Argentine side
Boca Juniors
with UNICEF.
Image- Guardian UK
Online Sources- UNICEF, The Offside – Red Bull New York, mlsnet.com, Guardian UK, IHT