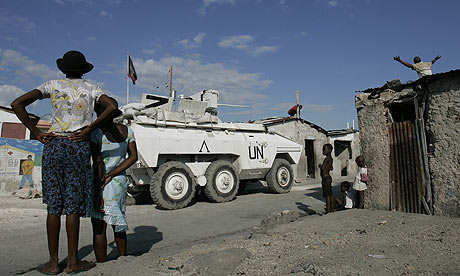 * Haiti:
President Michel Martelly lashed out against
an alleged sexual assault
of a Haitian teen by U.N. troops from Uruguay and deemed it "an act that revolts the national conscience."
(Update:
According to one Uruguayan legislator there are "two more videos and photographs" depicting abuse by U.N. peacekeepers in Haiti).
* Guatemala:
The race for the presidency hasn't show signs of slowing down ahead of
Sunday's first round
of elections.
* Brazil:
Is the Brazilian economy about to go
on the decline
?
* U.S.:
According to a government report released last week the Latino unemployment rate is 11.6%, a figure
that nearly doubles
"when the underemployed and discouraged workers are included."
Image Source – AP via
The Guardian
(Haitian President Michel Martelly urged a full investigation into the supposed sexual assault of a teen by Uruguayan U.N. peacekeepers).
Online Sources- The Independent, insdecostarica.com, Bloomberg, Fox News Latino