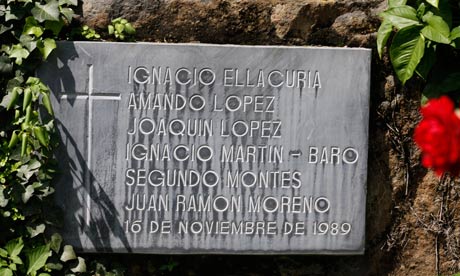 * El Salvador:
Nine former Salvadoran soldiers detained for their supposed role in the infamous murder of six Jesuit priests in 1989 could be
extradited to Spain
.
* Latin America:
Stock markets throughout the region
rebounded yesterday
after suffering heavy losses
on Monday
.
* Venezuela:
Three people including two former prison governors were
charged with corruption
in connection to deadly rioting weeks ago at the El Rodeo prison.
* Mexico:
An alleged "anti-technology group" took responsibility for
setting off a bomb
that injured two university professors at a college campus near Mexico City.
Image – Reuters via
The Guardian
("A stone engraved with the names of the six Jesuit priests killed during El Salvador's 1980-92 civil war.")
Online Sources- The Latin Americanist, Reuters, The Guardian, Voice of America, BBC News