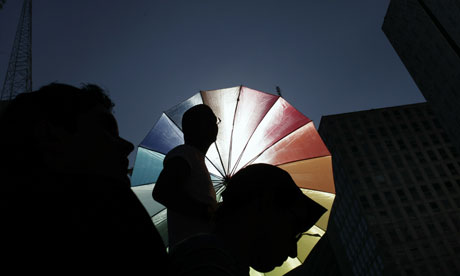 * Brazil:
Political pressure from "evangelical" legislators and religious groups
critical of homosexuality
may've influenced President Dilma Rousseff's decision to suspend the distribution of
sex education films
in Brazilian schools.
* South America:
Brazil's Santos take
a slim advantage
to Asuncion next week after winning 1-0 in their Copa Libertadores semifinals first leg over Cerro Porteno of Paraguay.
* Latin America:
The Mercados Integrados LatinoAmericanos exchange, a collaborative effort featuring stocks from Peru, Colombia, and Chile, will makes its
debut on Monday
.
* Mexico:
Fifteen Tijuana police officers were suspended after a video emerged of them forcing a female suspect to
perform a striptease
reportedly in exchange for being freed.
Image – Mauricio Lima/AFP/Getty Images via
The Guardian
("Gay pride in Sao Paulo, Brazil, 2010.")
Online Sources- The Latin Americanist, New York Daily News, BBC News, ESPN Soccernet, MarketWatch